What is IPTV?

IPTV PACK
IPTV PACK – IPTV (Internet Protocol Television) is a service that provides television programs and other videos using the Internet protocol that allows you to pick the program you desire to watch whenever, wherever you want. All you need is an internet connection (DSL, fiber optic or 4G). You can benefit from IPTV Subscription service on different devices such as PC, Smart TV, Smart IPTV Smartphones, tablet or TV MAG Box. It is not geolocated which means you can use it anywhere in the world.
the speed of the Internet connection needed differs on the quality of the video, for HD quality the minimum recommended is 5Mbps, for SD quality the minimum recommended is 2 Mbps.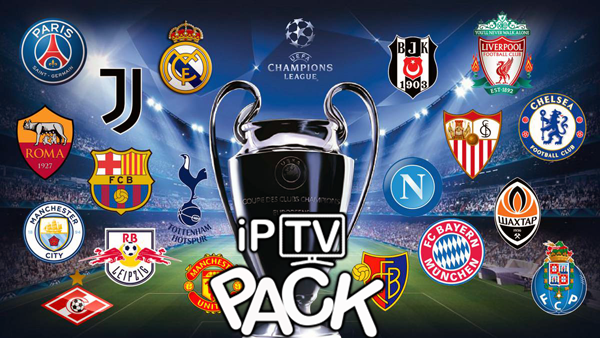 The main classification of IPTV Pack Subscription systems that are provided are:

Live television with or without related current TV shows
Time-shifted television: Allows you to catch up or start over your programs
Video on Demand Videos: Allows the subscriber to watch any movie from the VOD server's media library.
IPTV servers are compatible with Android and IOS devices, you can watch on your iPad, iPhone or on any iOS devices by downloading the app "GSE SMART IPTV" or on your Android devices by downloading the "GSE SMART IPTV" from the app store, configure your details and you are all set.
If you subscribe to our IPTV Subscription program you will get over 3000 HD new programs from different countries and a 24 hours of FREE Trial, all you have to do is sign up to the IPTV subscription service and order the package that you want and complete the payment; An e-mail will be sent to you in a short time, NO HIDDEN FEES will be charged during the period of your subscription.
When provided with a MAG Box (All models) you ordered, it needs to be connected with your Internet connection. You can request the videos or Tv channels via an interactive portal that allows you to navigate within the different IPTV services.
In certain cases, "server (URL) connection Timeout" or "No playlist uploaded" messages are displayed when you start the app, make sure to have enough memory available on your device because if your playlist is too big it will not be saved.
Can I watch my IPTV subscription simultaneously on different devices?

No, in this case, you must gain additional access for each device on which you want to watch multiple channels simultaneously.
Can I share my IPTV pack subscription with my friend/sister / mother etc?

When the system detects sharing (watch simultaneously), your account will be banned without notice until 24 hours (to allow you to change the password) and next time forever.
How long to receive my Android box?
1 to 3 days. The order is always expedited. Only exchange in case of defect.
where does the Android box with the packages work?
Anywhere in the world as long as you have an internet connection.
What if a channel does not work?

Technicians work on the channel. The channel will automatically come back shortly. You can send an email to warn.
What speed do I need for an IPTV PACK?
We recommend a speed of 4mbps and up.
How to update my channel list?
To update your channels list with all the latest news on TV channels or VOD media, just download your m3u file again from the same start link. Another method that is all the more effective – if your hardware or application permits – is to directly use the m3u file link provided for your subscription, so the list will update at each startup, automatically.
Qu'est-ce que l'IPTV?
IPTV Pack
(Internet Protocol Television) est un service qui fournit des programmes de télévision et d'autres vidéos en utilisant le protocole Internet qui vous permet de choisir le programme que vous souhaitez regarder quand et où vous voulez. Tout ce dont vous avez besoin est une connexion Internet (DSL, fibre optique ou 4G). Vous pouvez bénéficier du service d'abonnement IPTV sur différents appareils tels que PC, Smart TV, Smartphones Smart IPTV, tablette ou TV MAG Box. Il n'est pas géolocalisé, ce qui signifie que vous pouvez l'utiliser partout dans le monde. la vitesse de la connexion Internet nécessaire diffère selon la qualité de la vidéo, pour la qualité HD le minimum recommandé est de 5 Mbps, pour la qualité SD le minimum recommandé est de 2 Mbps. La classification principale des systèmes d'abonnement IPTV pack fournis est la suivante: Télévision en direct avec ou sans émissions télévisées en cours Télévision décalée dans le temps: permet de rattraper ou de reprendre vos programmes Vidéos à la demande: permet à l'abonné de regarder n'importe quel film à partir de la bibliothèque multimédia du serveur VOD. Les serveurs IPTV sont compatibles avec les appareils Android et IOS, vous pouvez regarder sur votre iPad, iPhone ou sur n'importe quel appareil iOS en téléchargeant l'application "GSE SMART IPTV pack" ou sur vos appareils Android en téléchargeant "GSE SMART IPTV" depuis l'App Store, configurez vos coordonnées et vous êtes prêt. Si vous vous abonnez à notre programme d'abonnement IPTV, vous obtiendrez plus de 3000 nouveaux programmes HD de différents pays et un essai gratuit de 24 heures, tout ce que vous avez à faire est de vous inscrire au service d'abonnement IPTV et de commander le package que vous voulez et de compléter le Paiement; Un e-mail vous sera envoyé en peu de temps, AUCUN FRAIS CACHÉ ne sera facturé pendant la durée de votre abonnement. Lorsqu'il est fourni avec un MAG Box (tous les modèles) que vous avez commandé, il doit être connecté à votre connexion Internet. Vous pouvez demander les vidéos ou les chaînes de télévision via un portail interactif qui vous permet de naviguer dans les différents services IPTV. Dans certains cas, des messages "Délai de connexion au serveur (URL)" ou "Aucune liste de lecture téléchargée" s'affichent lorsque vous démarrez l'application, assurez-vous d'avoir suffisamment de mémoire disponible sur votre appareil, car si votre liste de lecture est trop grande, elle ne sera pas enregistrée. Puis-je regarder mon abonnement IPTV simultanément sur différents appareils? Non, dans ce cas, vous devez obtenir un accès supplémentaire pour chaque appareil sur lequel vous souhaitez regarder plusieurs chaînes simultanément. Puis-je partager mon accès avec mon amie / sœur / mère, etc.? Lorsque le système détecte le partage (regarder simultanément), votre compte sera banni sans préavis jusqu'à 24 heures (pour vous permettre de changer le mot de passe) et la prochaine fois pour toujours. Combien de temps pour recevoir ma box Android? 1 à 3 jours. La commande est toujours expédiée. Échange uniquement en cas de défaut. où fonctionne la boîte Android avec les packages? Partout dans le monde tant que vous disposez d'une connexion Internet. Et si une chaîne ne fonctionne pas? Les techniciens travaillent sur le canal. La chaîne reviendra automatiquement sous peu. Vous pouvez envoyer un e-mail pour avertir. De quelle vitesse ai-je besoin pour un IPTV PACK? Nous recommandons une vitesse de 4 Mbps et plus. Comment mettre à jour ma liste de chaînes? Pour mettre à jour votre liste de chaînes avec toutes les dernières nouvelles sur les chaînes de télévision ou les médias VOD, il vous suffit de télécharger à nouveau votre fichier m3u à partir du même lien de démarrage. Une autre méthode d'autant plus efficace – si votre matériel ou votre application le permet – consiste à utiliser directement le lien du fichier m3u fourni pour votre abonnement, afin que la liste soit mise à jour automatiquement à chaque démarrage.